How Oofos Recovery Shoes Changed My Adventure Game
Photos by Sean Ryan, courtesy of Oofos
If you're a multi-sport adventurer, you likely have shoes for running, shoes for hiking, shoes for rock climbing, and shoes for cycling. But what shoes do you wear when you're not exploring? Ratty old sneakers? Birkenstocks? The latest trendy pair on Amazon Prime? No matter what you're rocking, I can assure you there's a better shoe for post-adventure wear, recovery shoes actually help your feet recover from pounding the pavement or climbing a peak. 
Enter Oofos. This foam recovery shoe comes in various styles ranging from flip flops to slip-on sneakers, all with Oofoam technology that absorbs 37% more impact than traditional footwear, reducing stress on your joints and giving a needed break to tired muscles. 
I have high arches that frequently ache (hello, plantar fasciitis), and I've loved Oofo's patented footbed that cradles and supports arches and can be worn without socks. The footbed and foam together reduce energy exertion in the ankles by 47%–compared to regular footwear. I liken it to using a foam roller to work out your muscles without having to take the time to do the foam rolling. 
At first, I wore Oofos primarily after running, working out, et cetera, but the new sneaker styles are so comfortable that recovery shos have become my go-to day-to-day shoes too. I use them dashing about town, rushing around the airport, and kicking it in my house. Since wearing them more frequently, I've noticed that my sore legs after hiking or running are greatly reduced, and I generally feel like I'm walking on a cloud while wearing them. 
Beyond recovery, Oofos can be worn during sports too. On a trip to Park City, Utah, last summer, I tried Oofos for paddling and found the closed-toe sandal model provided great support without being too slick to stand on. 
Oofos also came in handy after mountain biking, practicing yoga, and just jaunting to and from the Stein Erickson Lodge pool and hot tub. 
There are tons of styles to choose from, and it's tough to weed through to find a favorite, but here are the ones I loved best after testing five different pairs. 
Oofos Recovery Shoe Options
These are my favorite daily wear pair, and the white stylish actually looks good with shorts or a pair of jeans. Be aware the white can stain easily, but you can toss this style in the washing machine with some Oxy Clean to brighten them up. 
I wear these after a run and bring them along as my hotel/swimming pool shoe when traveling. The arch support beats out all other flip-flops so your feet feel refreshed, and not achy after wearing. A great option for anyone with high or sensitive arches.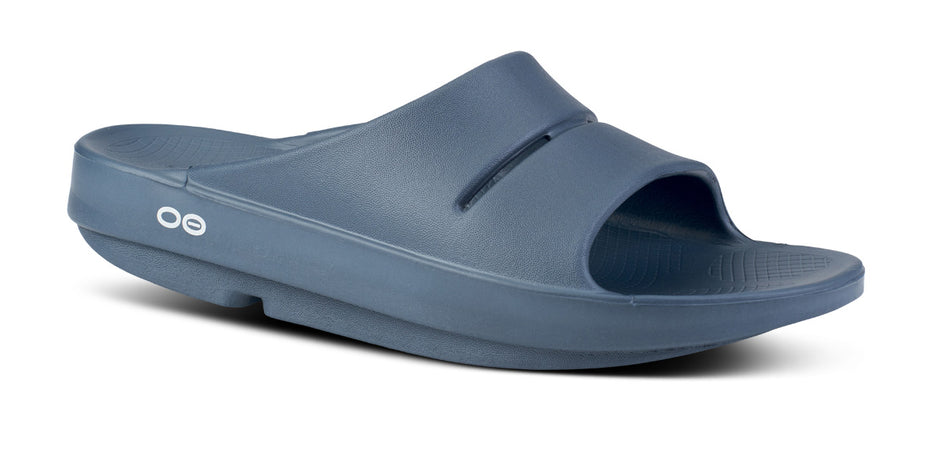 I keep the slides stashed in my car for slipping on after a hot summer hike, but I also love to use them in the winter after skiing. I ditch my heavy boots and rock them with ski socks to keep my feet cozy and supported. 
I broke my toe two months ago by kicking something in my house while walking around in bare feet. I've since learned my lesson and now always wear recovery shoes at home. I just leave my outdoor shoes by the door and make this pair my indoor-only shoe.